This show finished on Thursday 14 February 2019, and this page is being kept for archival purposes only.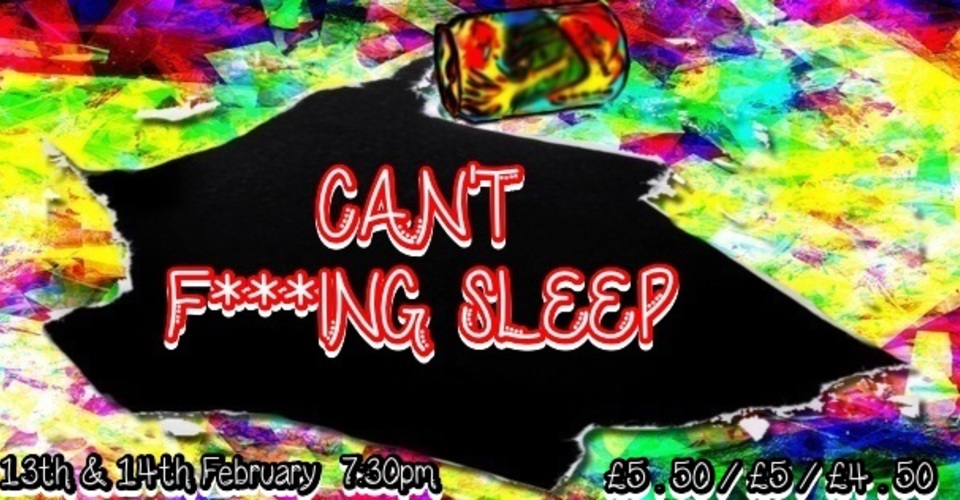 Dates
Wednesday 13 February - Thursday 14 February
Price
£5.50/5/4.50
Author
Stephen Joseph Parkin
Venue
The Day: A Saturday.
The Place: Ed's Flat.
The Queen: A Lizard.
Can't F***ing' Sleep is brand new play by Stephen Joseph Parkin exploring the cliches and curiosities surrounding hallucinogens. It follows six different young people over the course of one night, over the course of one trip. We see the night from Jamie's perspective, viewing the world as she does. Through a combination of lighting, ambient sound and video, we experience her joy, euphoria, confusion, frustration and eventual exhaustion.
Show Advisories:
Haze/Smoke
Strobe/flashing lights
Loud/sudden noises
Strong language
Depiction of drug use
Recommended 16+
Tickets
Wednesday 13th Feb
Thursday 14th Feb
---
Cast and Crew
Assistant Stage Manager

Co-Producer

Co-Producer

Director

ED

FINN

JAMIE

JAY

Lighting Designer

Elissa Webb

ROBIN

Liam Bradbury

SAM

Stage Manager

Technical Assistant

Technical Assistant

Technical Manager

Videographer
---