This show finished on Saturday 18 March 2017, and this page is being kept for archival purposes only.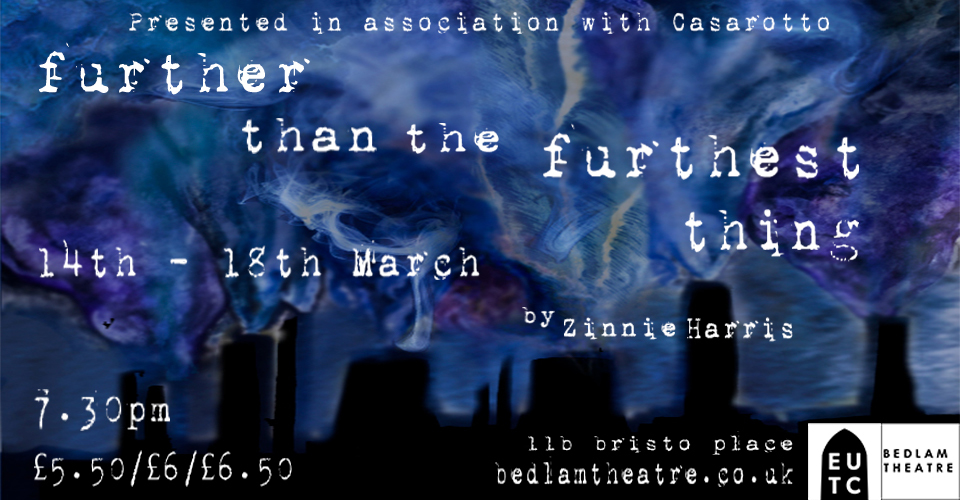 Dates
Tuesday 14 March - Saturday 18 March
Price
£6.50/6/5.50
Author
Zinnie Harris
Venue
'What is it about that bloody place?
You, all of you
What the hell is it about all of you?
I let you under my skin
That is what it is
Like thousands of tiny pinpricks'
-
'You were the strong one
Is no one ever blaming you,
You did what you had to do
You did what was the right thing.'
It's the swinging 1960s yet on an island 2000 miles from anywhere life is slow, calm, predictable. Waves lap on the shore, day melts into night, seasons shift and secrets are buried. Yet when their volcano erupts the outside world suddenly comes calling. Greed, corruption and self-reckoning come with it, digging into the foundation of the islanders' world, pulling it apart.
Bill, Mill, Francis and Rebecca watch as their civilisation plummets into crisis and long-ignored skeletons come to life.
Further the Furthest Thing is a modern day folk tale of capitalism and modernity, landscape and culture.
Mill - Tiffany Garnham
Bill - Oscar Gilbert
Francis - Rufus Love
Rebecca - Anna Swinton
Mr Hansen - Harry Richards
---
Cast and Crew
Director

Director

Francis

Lighting Designer

Lighting Operator and Projection

Mill Lavarello

Mr. Hansen

Producer

Producer

Alvaro Gallego

Set Designer

Set Manager

Sound Designer

Stage Manager

Technical Manager
---
Tickets
One moment please...