This show finished on Thursday 20 March 2014, and this page is being kept for archival purposes only.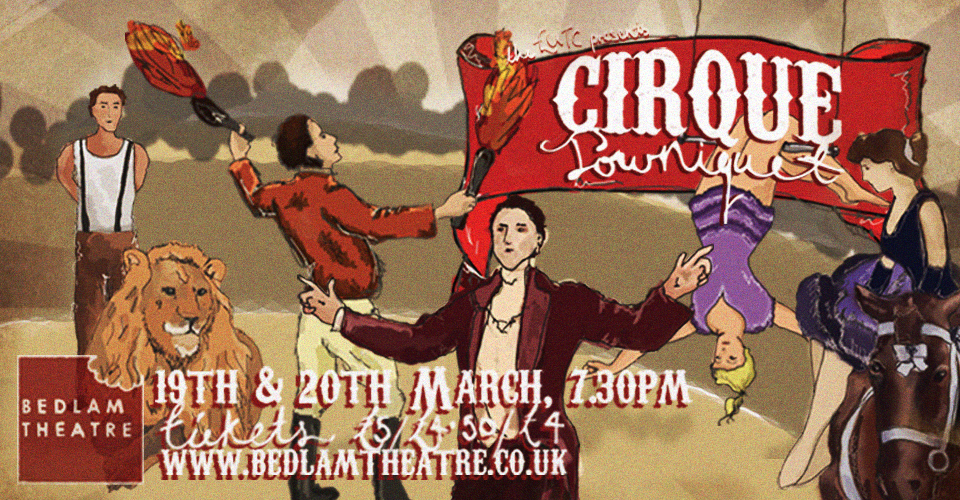 Dates
Wednesday 19 March - Thursday 20 March
Price
£5.00 / £4.50 / £4.00
Author
Louise Spence
Venue
"Enchanted. Besotted. "Swept up in the magic". I don't care what you call it, it won't last. You'll hate living with a circus."
The Edinburgh University Theatre Company is proud to present "Cirque Tourniquet", Louise Spence's powerful meditation on family, distance and the dark side of being a performer. Both astonishing spectacle and a gripping character drama, this piece of original writing explores the warped psychology of a dysfunctional circus troupe which can never stop moving.
For Zac, at the epicentre of the circus, life is a mess of questions left unanswered and tricks left unexplained. This intrigue draws the enamoured Olivia ever closer, whilst the tangled web of old friends, lost loves and blood ties pushes Zac further away. The performance will be bookended by two short films.
"Cirque Tourniquet" is a naturalistic tale of life, loss and heartbreak in a world of magic and intrigue.
Tickets for both performances can be purchased here online or in person at the Bedlam Theatre Box Office.
---
Cast and Crew
Zac

Olivia

Dermott

Leanna

Sophia

Morgan

Pope

Director

Assistant Director

Producer

Producer

Stage Manager

Technical Manager

Publicity

Assistant Stage Manager

Assistant Stage Manager

Assistant Technical Manager

Assistant Technical Manager
---
Tickets