This show finished on Saturday 31 October 2015, and this page is being kept for archival purposes only.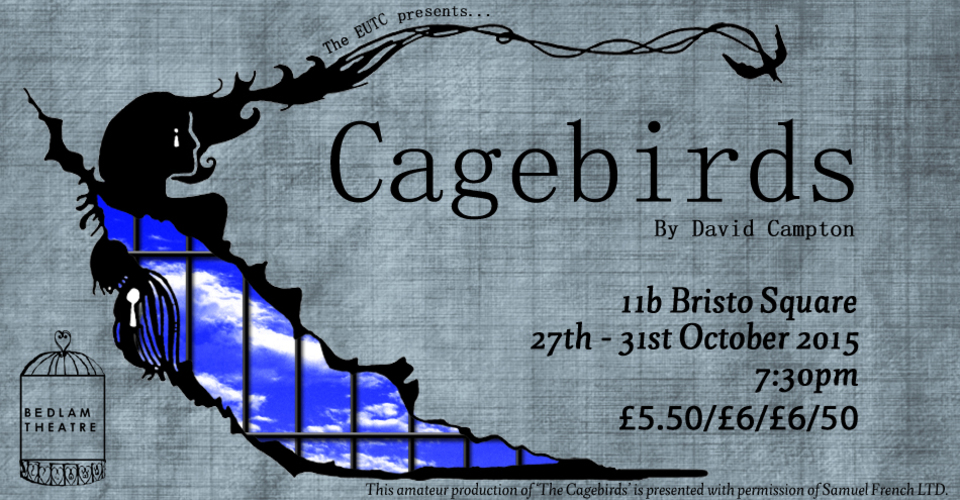 Dates
Tuesday 27 October - Saturday 31 October
Price
£5.50/£6/£6.50
Author
David Campton
Venue
Welcome to the Cage. Six prisoners reside isolated in their own thoughts and co-exist in a delicate harmony, until their peace is shattered by the Wild One.
Captured and cast into the cage, she tries to escape, but in doing so she threatens everything the cagebirds believe in.
David Campton's beloved play is brought to life in a new production by he EUTC that blends absurdism, choreography and dark humour in a tale of the dangers of mob mentality and the price of free will.
---
Cast and Crew
Lights op.

Sound op.

Set Assistant

The Wild One

The Mirror-Eyed Gazer

The Constant Twittering

The Long-Tounged Gossip

The Medicated Gloom

The Great Guzzle

Props Master

Sound Designer

Director

Producer

Alvaro Gallego

Stage Manager

Set Manager

Publicity

Technical Manager

Assistant Tech Manger

Assistant Producer

Assistant Producer

Publicity

Assistant Director
---
Tickets
One moment please...