This show finished on Saturday 27 October 2018, and this page is being kept for archival purposes only.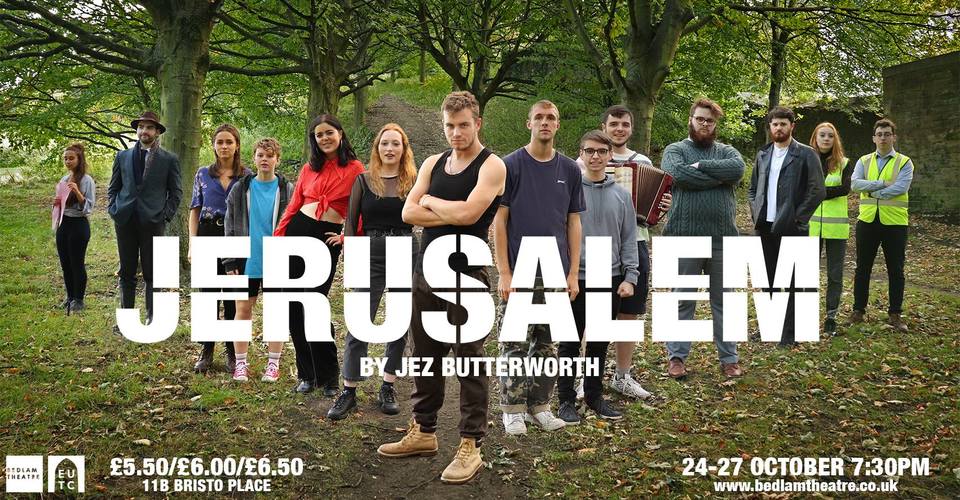 Dates
Wednesday 24 October - Saturday 27 October
Price
Full £6.50, Concession £6.00, Members £5.50
Author
Jez Butterworth
A comic, contemporary vision of life in England's green and pleasant land, written by Jez Butterworth.
On St George's Day, the morning of the local county fair, Johnny 'Rooster' Byron, a local waster and modern day Pied Piper, is a wanted man. The council want to serve him an eviction notice, his son wants to be taken to the fair and his motley crew of teenage mates want some of his ample supply of drugs and alcohol. Last year's May Queen, Phaedra, has disappeared and her stepfather Troy wants to give Rooster a good kicking. So begins Johnny's stand against the realities of modern life – which proves to be funny and shocking in equal turns.
Show Advisories: Offensive language, Heavy drug use, Sexual references, Strobe lighting, Loud noises, Scenes of a violent nature.
Latecomers may not be admitted.
Tickets for 'Jerusalem' as well as other shows can also be bought on our society page on EUSA - find them under the 'Our Products' tab.
---
Cast and Crew
Phaedra

Amelia Chinnock - Schumann

Parsons

Fawcett

Director

Producer

Stage Manager

Bryn Jones

Set Manager

Technical Manager

Props Manager

Johnny

Ginger

Dawn

Professor

Troy

Rob Younger

Pea

Lee

Davey

Marky
---