This show finished on Saturday 07 February 2015, and this page is being kept for archival purposes only.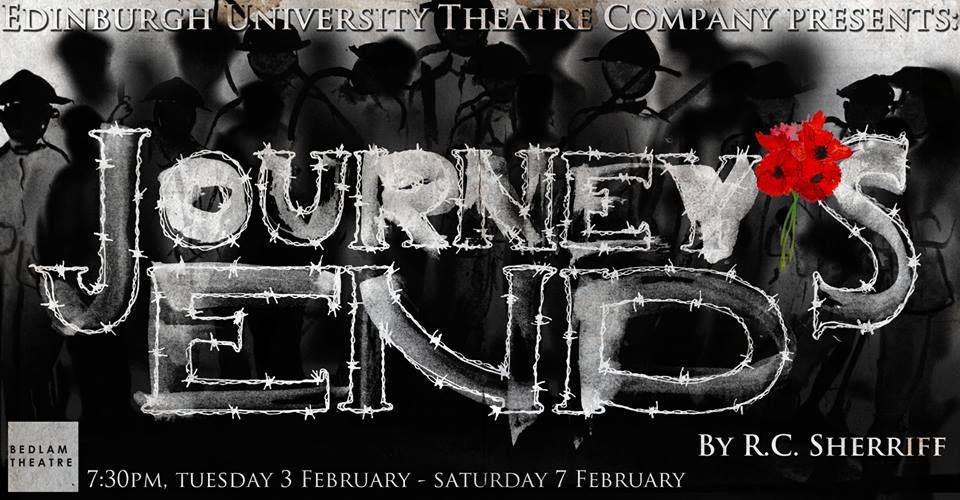 Dates
Tuesday 03 February - Saturday 07 February
Price
£6 / £5.50 / £5
Author
R C Sheriff
Venue
This February, let Bedlam Theatre take you 100 years into the past to remember the Great War. 'Journey's End' is an unflinching portrayal of men who faced the unbearable, but found friendship amongst the bloodshed. Written just after the end of the war, RC Sherriff brings no political agenda, but only the harrowing story of a group of British officers in a dug-out in 1918.
'Joining up' to be like his school hero Stanhope, we see eighteen year old Raleigh entering the life of mud and war. Entrenched in dug-out life are also Trotter, who's more offended by interruptions of meal times than the German offensive, Hibbert, who is trying to find a way to wriggle out of the conflict, and Osborne, the uncle-figure to the men, with those romantic-glossed over reading eyes… But what effect has the brutal bludgeoning of the war had on Raleigh's hero, Stanhope?
In this Centenary year, Bedlam Theatre brings you 'Journey's End', by R.C.Sherriff.
---
Cast and Crew
Producer

Director

Stage Manager

Technical Manager
---
Tickets
One moment please...
---
Gallery