This show finished on Tuesday 19 January 2016, and this page is being kept for archival purposes only.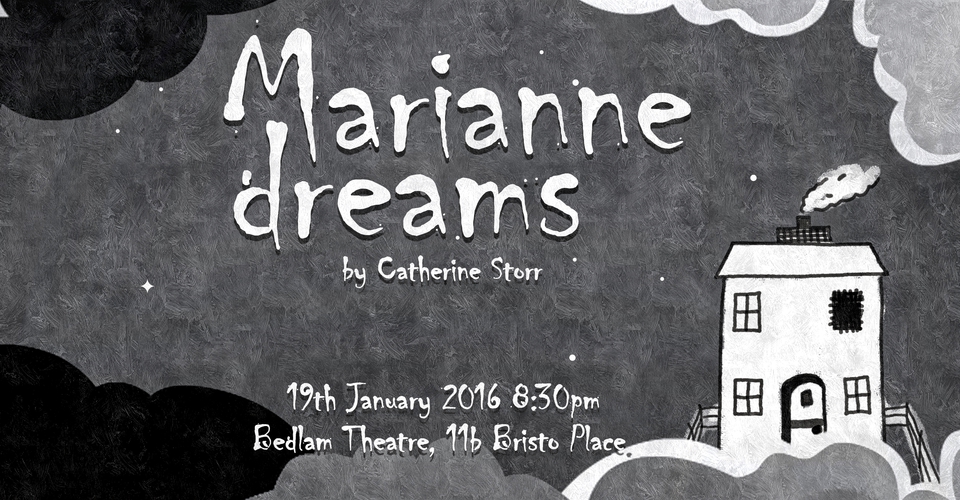 Dates
Tuesday 19 January
Price
£2.50/£3.00
Author
Catherine Storr
Venue
Part of Bedlam Festival 2016
'There's a force in this place. You felt it in the cold wind and now it is in them. It pulls at you, pulls all the energy. I think it would pull the light from the sky if it could.'
On her tenth birthday Marianne is stuck down with a sudden fever. Ill and bored with being bed-ridden, Marianne picks up a pencil and starts doodling - a great open plain, a house, a garden, a boy at the window. That night she has an extraordinary dream. As she sleeps, Marianne is transported into her drawing.
Together with the boy at the window, Marianne finds her dream world increasingly austere and frightening; the land is cold and barren and there is force watching them; waiting.
Their every movement is guarded by these menacing watchers that surround the solitary house. Together, in their dreams, Marianne and Mark must escape and save themselves.
Can Marianne walk the line between dreams and reality?
The EUTC proudly presents Moira Buffini's stage adaptation of Catherine Storr's classic tale.
If you like Marianne Dreams, you might like Multi-Media in Theatre.
---
Cast and Crew
Actor

Director

Director

Producer

Technical Manager

Technical Manager

Actor

Actor
---
Tickets
One moment please...